Hi guys, it's LO-FI time again! This month we've got AC SLATER from NY! Come down for a massive night of electro, fidget house and dubstep madness! Presale tickets are still available!! Get YOURS now!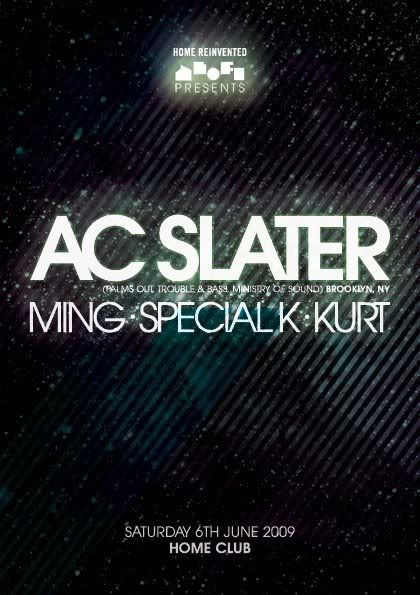 ENTRY : 
+ PRESALE : $20 with one Bacardi Breezer
+ AT THE DOOR : $25 with one Bacardi Breezer
http://www.facebook.com/event.php?eid=80046004373
AC SLATER IS BIG BROOKLYN BASS!
Named by XLR8R and Beatport as one of the most important artist to watch out for in 2009, awesome heavyweight bass champion, AC Slater is coming HOME to drop a massive load of floor pumping bass on you!
Already turning heads with rave-tinged remixes for the likes of Moby, Freestylers, and Drop the Lime, his tracks have been finding their way onto radio playlists on stations like UK's Radio 1 and Kiss 100, and into DJ sets of people like Sinden, Moby, Crookers, Drop the Lime, and Steve Aoki.
By producing a heavily layered, frequently high BPM morass of clashing genres, sneaking in scribbling acid hiss, a sanguine dubstep bass crunch, liberal doses of breaks and dissected vocal samples of the classic variety, he calls it, very appropriately, 'Big Brooklyn Bass'. Hallmarks of a classic AC Slater set is filled with buckets of stabby raveness and booming bass lines. 
Line Up:
AC Slater (NY)
Ming (HOME)
Kurt (Clash The Disko Kids)
Special K